Some of the items we deliver require our drivers to follow particular transport methods. We've broken these down by the type of items.

Alcohol Deliveries
To complete alcohol deliveries, you may need:
- Trolley
- Box/Crate
- Cooler Bag



How To Transport + Carry

Heavy Deliveries
To reduce your risk of injury use a trolley to move heavy items and ensure you are practising safe lifting techniques.
If you do not wish to complete 'Heavy Item' jobs, simply, deselect the option in the daily checklist or account preferences, and you will not be shown these jobs.
Flower Deliveries
To complete flower deliveries, you may need:
- Box/Crate
- Spray Bottle
- Pillows and/or blanket
How To Transport + Carry
Flower bouquets need to be kept upright at all times. For flower boxes, be sure to keep these flat.
Cake, Cupcake & Doughnut Deliveries

To complete cake, cupcake and doughnut deliveries, you may need:
- Box/Crate

How To Transport + Carry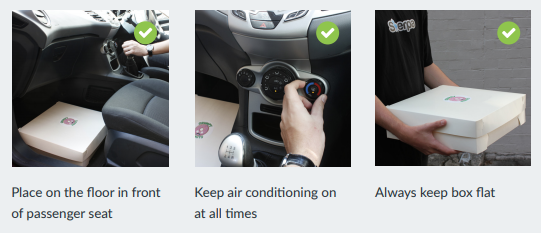 You are liable if item(s) are damaged in transit (that is, between pick up & drop-off). You will not be paid for the delivery and will be required to cover the cost of the damaged item. Do not attempt to deliver damaged items, and do not attempt to resolve the damaged situation yourself – don't touch the cupcakes! Call Sherpa Support ASAP for instructions on how to proceed.