Please note: At this stage, this feature is not available in all cities. We'll let you know via Llama Letter if this feature is launching in your location.

What's an Exclusive Job Offer?
Exclusive job offers are exclusive delivery requests. This means that they are visible only to you in your driver app for a limited time, currently 45 seconds.
They appear as a banner on the 'Find Jobs' page (or a push notification if your app is closed or in the background). Simply click on the offer to see the details. You can also swipe left to dismiss, or ignore it completely and it will disappear once it expires.
Check them out in action here (30secs):
Once you accept (and confirm) you'll take the delivery request, it will be added to your 'My Jobs' list like any other request you accept.
Why am I being sent them?
We use our best-match calculation to determine which drivers are best for particular jobs. We consider things such as your location to pickup, capacity and recent performance to determine who is suitable for each offer sent.
As all newly opened 1 hr & 2 hr jobs will be first offered by exclusive job offer, there are plenty to go around!
Which jobs will be sent as Exclusive job offer?
All newly opened 1 hr & 2 hr jobs will be first sent as an exclusive job offer.
Jobs scheduled for later today and tomorrow will still appear on the Find Jobs map/list view as normal, along with jobs that don't get accepted by a driver after all exclusive job offers are sent.
Does my Everest tier influence my chance of getting a job offer?
Drivers on all tiers will be eligible to receive exclusive job offers, but your likeliness to be sent them is increased if you are performing well. Keeping your late and unassignment rates low will increase your chances of being sent job offers.
Will declining/ignoring them affect my account?
There are no penalties for declining or ignoring exclusive job offers, however we preference sending them to drivers who have proven likely to accept them, and may temporarily turn them off if you ignore them consistently, ensuring drivers who do wish to receive them have the opportunity to do so.
If we turn them off, you'll notice an in-app banner and you can re-enable at anytime in your Notification Preferences screen.
Do I have to do anything?
Nope! Exclusive job offers require your Notify setting to be On in the app, but eligibility for them is determined by our best match calculation.
If you have previously turned off your notification settings, you may wish to review them to make sure you're receiving Push Notifications from us, as well as checking your device notification settings.
We have recently added a sound to our push notifications so you may also wish to check you have sounds turned on for the Sherpa Driver app.
Can I turn them off?
If you don't wish to be alerted of new work, including exclusive job offers, you can set your Notify toggle to Off in the driver app.

If you do want to get other notifications but not exclusive job offers, you can turn them off in the Driver Mobile App under My Account > Notification Preferences.
You can also choose to op-out of exclusive job offers for grocery & CBD deliveries: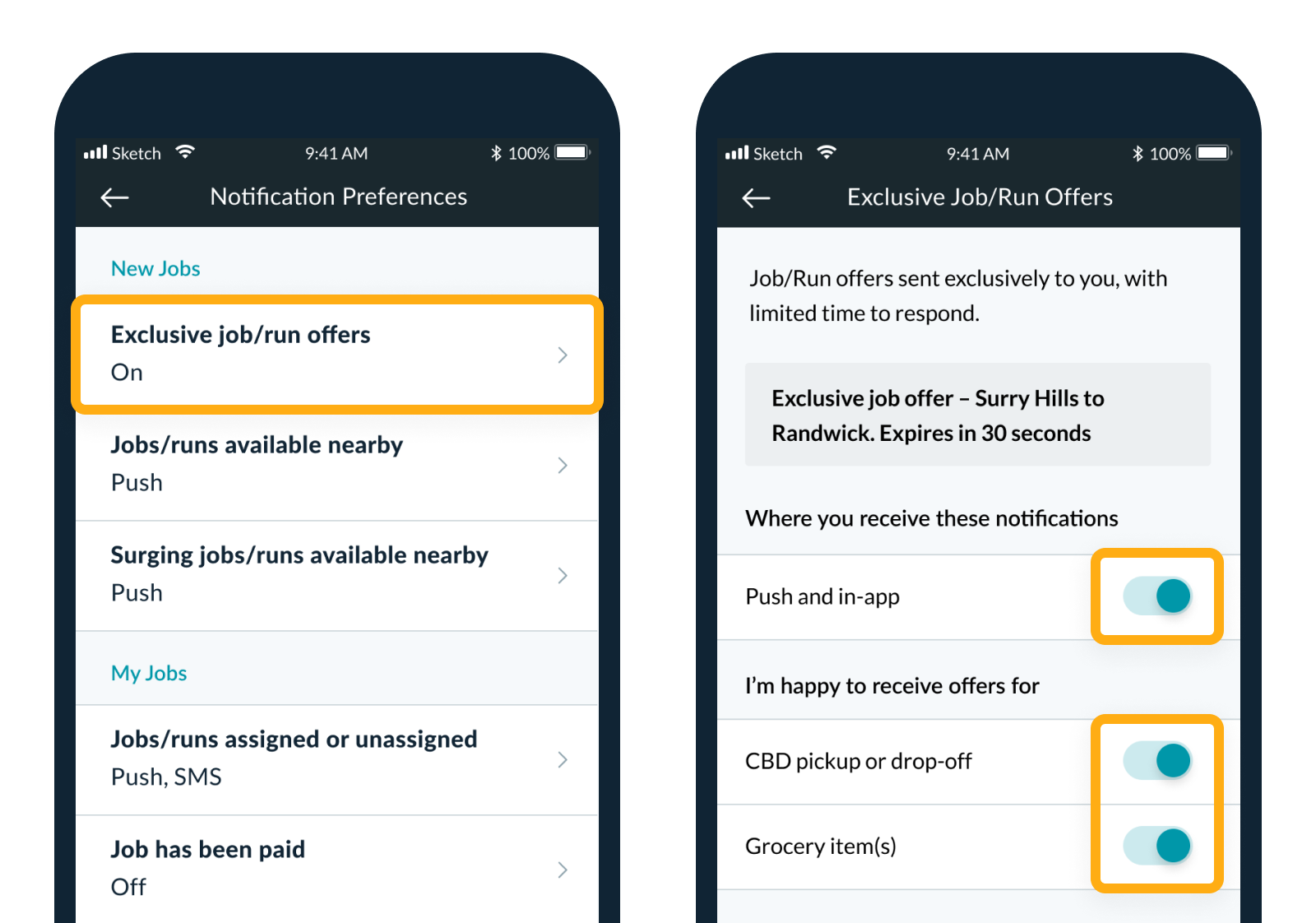 Why are other drivers getting them but I'm not?
Unless you've turned them off, and/or have set Notify to OFF in the driver app, or they're not turned on in your city, it may just mean you're not matched to the jobs on offer. We also require a recent location update to check if you're close to the pickup location, so if you have had your GPS off for more than 5 mins, we likely don't know where you are.

Please note:

If you're receiving them after they've expired, or not at all, you may wish to check if you have enabled Push Notifications for Sherpa and that you're receiving them at the time they are sent.

Learn more about notification settings for Android
Learn more about notification settings for iOS