Sherpa uses the following methods to communicate with drivers:
Push Notifications - Push notifications are sent to your device and can be received even if you have closed the Driver Mobile App. You may wish to check your phone's notification settings to check you have Push Notifications turned on for Sherpa.

SMS - SMS messages are sent to your phone number.

In-app Notifications: These notifications will be displayed if you are actively using the driver app, and in the case of Exclusive Job Offers, may only show for a short period of time.

Notification Centre - Notifications about active deliveries (those you have in My Jobs for now or in the future) and are accessed by navigating to the Notification Centre via the 'bell' icon in the Driver Mobile App. The bell will display an orange dot to indicate when a new message is available to view.
Notification Preferences
You can control which notifications you receive from Sherpa, and how you receive them by visiting Notification Preferences within the Driver App.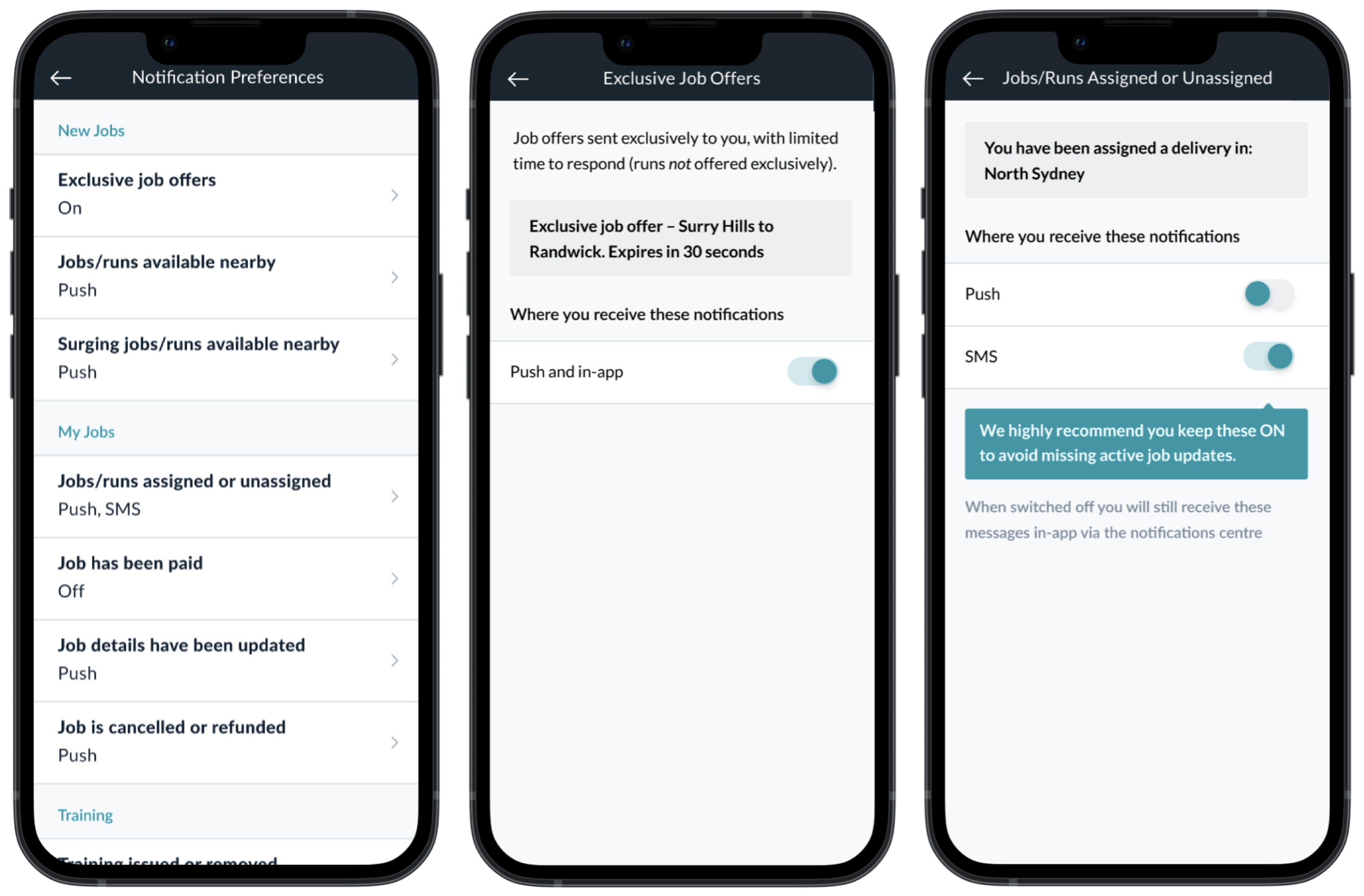 New Jobs
Exclusive Job Offers: Exclusive Job Offers are ON by default. They are delivered to best matched drivers via and in-app banner (when you're using the app) or a Push Notification when the Driver App is closed or in the background.
Learn more about Exclusive Job Offers here
New or Surging runs/jobs available nearby: If you are within range of newly opening deliveries or those with price or point increase applied, we will send you a Push Notification to let you know. Clicking on the notification will direct you to Find Jobs in List view. New jobs are indicated by a flashing dot, surged jobs will appear at the top of the list.
My Jobs
Notifications in this category relate to deliveries you have accepted for either Now or Later. They are sent as Push Notifications and will also be delivered in Notification Centre (accessed by clicking the 'bell' icon in the top right of the Driver Mobile App).
You also have the option to receive messages about jobs you are assigned to or unassigned from via SMS.
We highly recommend you keep these messages ON to avoid missing important updates on deliveries you have accepted.
Training
You may be assigned training in order to accept deliveries for certain products or customers, or to satisfy conditions for being re-approved. Sherpa sends training updates via Push Notification and these will also appear in Notification Centre.
General Updates
New job and account updates: Sherpa will contact you via SMS to provide updates or request information related to your account, specific deliveries, or jobs that you may be suitable to accept.
Other Messages: Sherpa occasionally sends drivers SMS's regarding event days, safety updates, changes to delivery regulations, driver feedback surveys.
Can I turn them off?
All notifications are ON by default. To select which notifications you receive, navigate to My Account > Notification Preferences in the Driver Mobile App. You will see which delivery method you toggled on for each notification, and can click through to adjust them.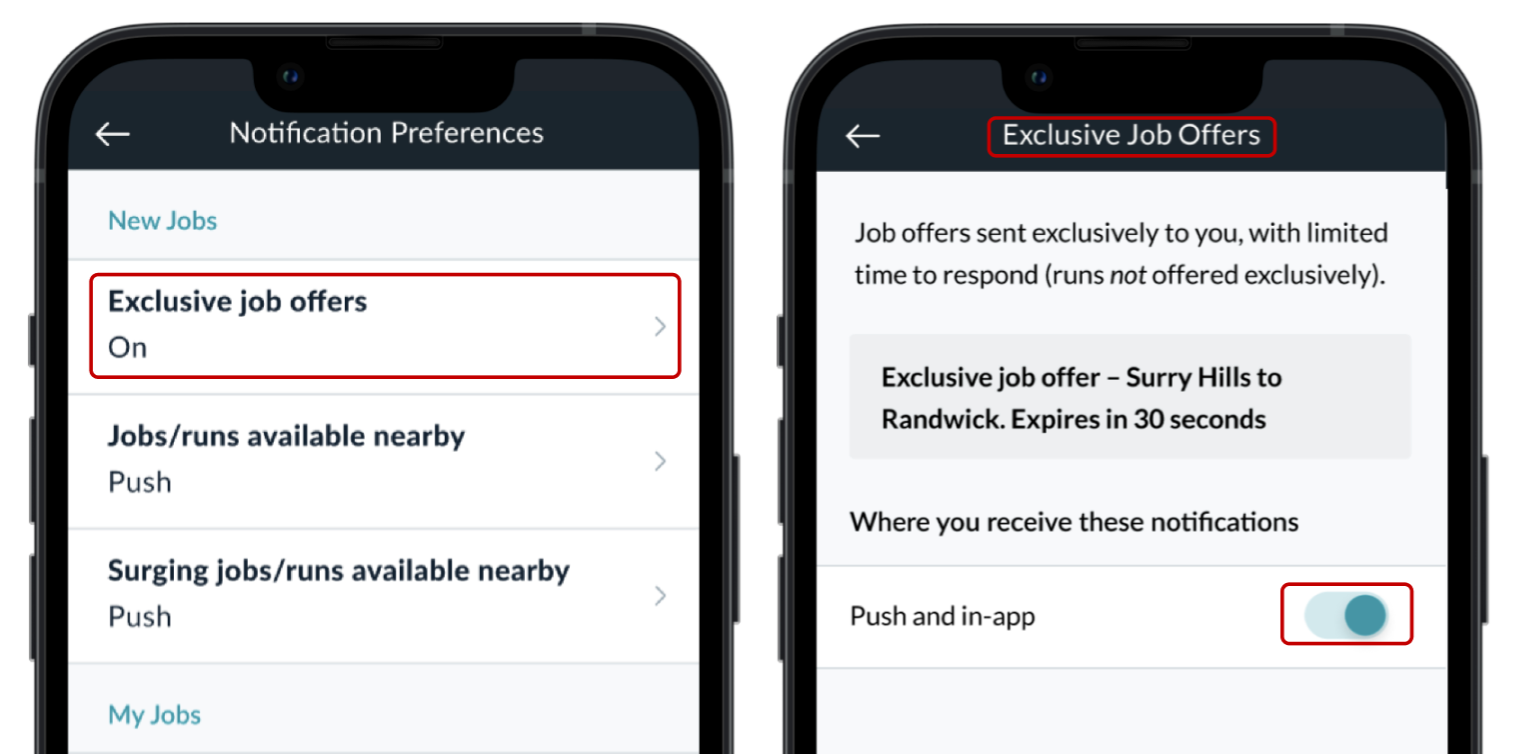 A reminder too, that in your Contact Preferences (My Account > Delivery Preferences > Contact Preferences) to can opt for agents to call you rather than sending SMS.

Have you previously opted out of Sherpa SMS's by replying STOP to our messages?
If you have previously opted out by texting STOP to our SMS's then you will need to restart the services by texting START to the following numbers:
0437 246 422
0476 856 250
Texting START to both of these numbers will re-initiate your SMS messages and you can then control them from the SMS Notifications screen.